Answer to PhotoQuiz 48
Peutz-Jeghers syndrome (OMIM #175200)
Peutz-Jeghers syndrome is a familial cancer predisposition syndrome characterized by melanocytic macules on the lips, buccal mucosa and digits, multiple hamartomatous polyps mainly in the gastrointestinal tract and sometimes in the urinary tract, and an increased risk of malignancies (including colorectal, gastric, pancreatic, breast, and ovarian cancers). It is caused by heterozygous mutation in the STK11 (serine/threonine kinase) gene (*602216) on chromosome 19p13. It has an autosomal dominant pattern of inheritance.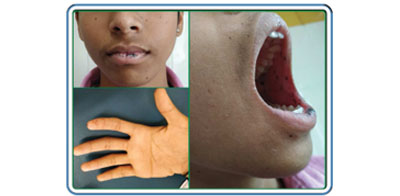 Correct Responses Were Given By:
1. Dr Mayuri Yeole, Apollo Hospitals, Bengaluru
2. Dr Deepa Bhat, JSS Medical College & Hospital, Mysore
3. Dr Sameer Bhatia, SGRH, New Delhi
4. Ms Niby J Elackatt, Cloudnine Hospital, Bengaluru
5. Dr Sreelata Nair, Lifeline Super Speciality Hospital, Adoor
6. Dr Sheetal Sharda, Medgenome Labs, Bengaluru
7. Dr Ravneet Kaur, AIIMS, New Delhi
8. Dr Veronica Arora, SGRH, New Delhi
9. Dr Lekshmi Nair, NIMS, Hyderabad
10. Dr Kruti Varshney, Centre for Human Genetics, Bengaluru
11. Dr Haseena Sait, SGPGIMS, Lucknow
12. Dr Nandhini, JIPMER, Pondicherry
13. Dr Ranjana Mishra, SGRH, New Delhi
14. Dr Nishant Rathod, Rajkot
15. Dr Santosh Patil, Bengaluru
16. Dr Vindya Subasinghe, Lady Rideway Hospital, Sri Lanka