Down Syndrome Milan Samaroh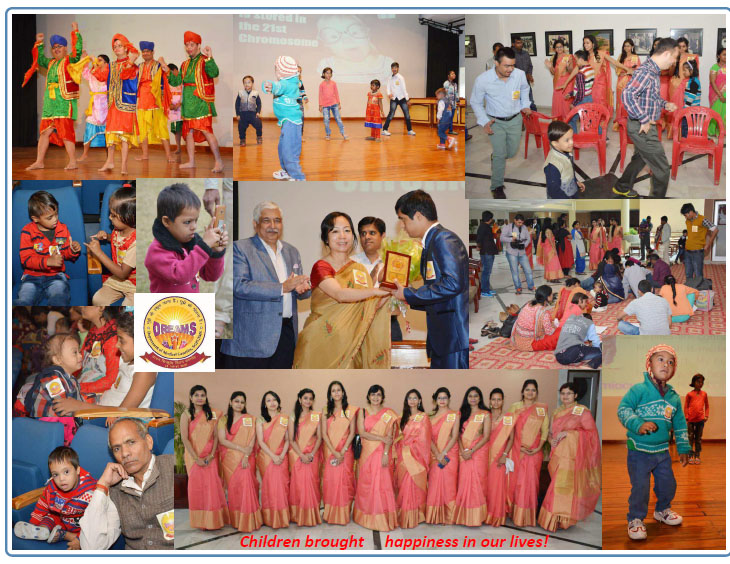 On the occasion of Children's day on 14th November 2016, the Department of Medical Genetics, Sanjay Gandhi Postgraduate Institute of Medical Sciences, Lucknow organised 'Down Syndrome Milan Samaroh'. The program aimed to provide information, foster speech and occupational physiotherapy and highlight the achievements of children with Down syndrome. Around fifty children with Down syndrome and their families participated enthusiastically in the function. Before the main events, various fun games and drawing and dance competitions infused zeal and jubilance in the children. The main program commenced with the arrival of Dr Rakesh Kapoor, Director SGPGI and other chief guests- Ms. Hekali Zimomi, health secretary of state and Mr. G S Priyadarshi, special secretary, basic education. The introductory speech by Ms. Swati Sharma, the Principal of 'Asha Jyoti' – the school for special children, passionately reinforced the idea of children with Down syndrome being differently abled rather than being disabled. The Saraswati Vandana and dance performed by the children of this school were well appreciated. Dr Bhawna discussed the perspective of a parent, highlighting the immense joy and happiness these kids inculcate in the family. This was followed by felicitation of the children who had excelled in sports, dance and other activities. The Director and all the chief guests applauded the efforts of the organisers and the enthusiasm of the families. The program imprinted in the minds and hearts of everyone present -the beautiful smiles, cheerfulness and innocence of the Down syndrome children.
Third International Conference on Birth Defects & Third National Conference of the Society for Indian Academy of Medical Genetics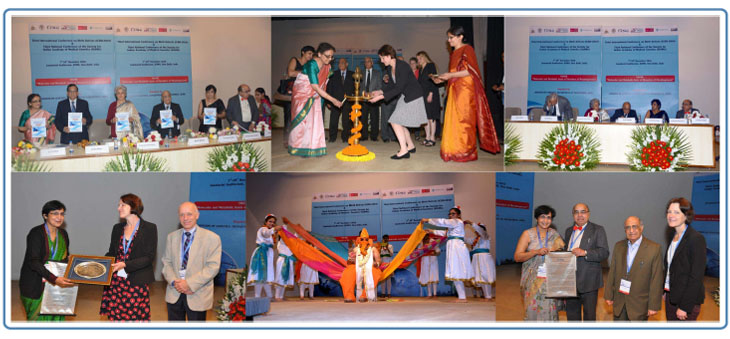 The Third International Conference on Birth Defects and Third Annual Meeting of the Society for Indian Academy of Medical Genetics was held in New Delhi on 7th to 10th December, 2016. It was organized by the All India Institute of Medical Sciences, New Delhi in association with SIAMG. The conference was followed by post-conference workshops on Clinical Dysmorphology, Reproductive and Fetal Genomics and Clinical Cancer Genetics. A number of distinguished international and Indian faculty attended the conference and shared their experience and expertise on the theme of the conference "Molecular and Metabolic Basis of Disorders of Morphogenesis". The academic sessions included deliberations on numerous topics ranging from principles of dysmorphology to latest genetic diagnostic techniques for syndrome diagnosis. Close to 200 delegates attended the academic proceedings. The highlights of the meeting included the Dr SS Agarwal Oration by Dr Jill Clayton-Smith, Professor of Medical Genetics, University of Manchester, UK, Dr IC Verma Outstanding Researcher Award lecture by Dr Shubha Phadke, Department of Medical Genetics, SGPGIMS, Lucknow and presentation of the Dr SS Agarwal Young Scientist Award to Dr Shalini Nayak from Kasturba Medical College, Manipal, for her work on fetal autopsies. There were a number of interesting free papers as well as posters presented by young medical geneticists. The conference event and workshops were appreciated by all the attendees and SIAMG was lauded for its ongoing contributions towards the field of Medical Genetics in India.
Download PDF